Genre:
Drama, Thriller, Slice-of-Life, Black Comedy
Release Date:
TBA 202X
For Fans Of:
Daria, Trainspotting, Clerks, Harmony Korine (Kids, Gummo), Three Billboards Outside Ebbing, La Haine, Twin Peaks, Show Me Love, Three Colors: Blue, Moonlight, One False Move, Some Kind of Wonderful, The Incredibly True Adventure of Two Girls in Love, Reality Bites, The Breakfast Club, River's Edge, My So-Called Life, Freaks & Geeks, Empire Records, Katawa Shoujo, Gone Home, Emily Is Away Too, and Higurashi: When They Cry
.
--
Set in the mid-1990′s ('94-'95) in the rainy cascadian town of
Olympia, Washington
,
Smoking The Filter
follows the daily misadventures of high school dropout
Cameron Parker
, an outcast, vandal, burnout -- the child of
Daria & Jane's
intellectual cynicism and
Beavis & Butthead's
chaotic antics.
However, in the backdrop of this seemingly charming slice-of-life slacker tale, lays the ever-present mystery regarding the circumstances of death for one
Trevor Hawley
, the high school football champion and classmate of Cameron's that nobody particularly liked, which, unfortunately puts nearly everybody on the suspect list.
As Cameron struggles navigating the world of minimum wage jobs, crushing social expectations, and turbulent romantic relationships while still struggling to grasp her own identity, but when she fears she may be the next of her class to die, like a cigarette, her sense of stability withers away in an explosive downward spiral and the choices she must make threaten to change her life forever.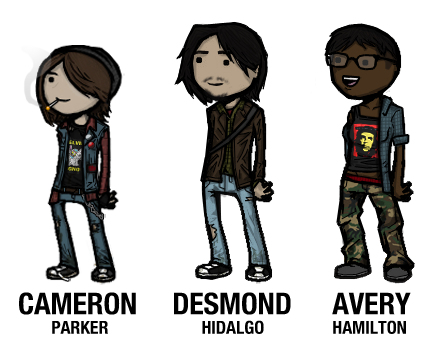 MAIN CHARACTERS:
Cameron Parker
4/16/1975 • 5'5 • 112 lbs • Aries
A naturally rebellious and anti-authoritarian tomboy, Cameron prefers to spend most of her time wasted, smoking, listening to music, skateboarding, reading zines, and playing bass in her band. In every sense of the word: a slacker, burnout, and frequent troublemaker; Cameron seems doomed to her life of mediocrity, barely making ends meet at drowning in a lifestyle of increasingly harsher drugs. However, despite her tough-exterior and tendency towards delinquency, Cameron is an idealist wise beyond her years. but her internal struggles with anxiety, depression lead her to often rash decision-making, fear of disappointment, and ultimately the avoidance of constructing any long term goals.
Damien Hidalgo
7/12/1975 • 6'2 • 170 lbs • Cancer
Cameron's childhood friend and long-time secret crush. Desmond works at the local record store (owned by his uncle) and lives with his best friend, the much older and much sloppier Brent. Desmond carries himself as more 'rough around the edges' but this runs in stark contrast to his anxious, shy, ditsy and soft-spoken personality. A result of near-constant harassment throughout his upbringing. He may not be the smartest kid on the block, but he has a heart of gold and is loyal to his friends to a fault, unfortunately leaving the door open for others to take advantage of his altruism and kindness, such as his current girlfriend, Heather, who cares moreso about his physical attributes than sharing or requiting his thoughts or feelings.
Avery Hamilton
12/23/1975 • 5'9 • 122 lbs • Capricorn
Cameron's close friend and confidant, as well as her frequently on-again/off-again girlfriend. Avery is the lead guitarist and vocalist of their riot grrrl band, which she uses as a vehicle for her radical political activism. Unfortunately, even in the 'forward-thinking' spaces she occupies, Avery still finds discrimination inescapable. Often unable to openly speak how she feels, Avery has turned to artistic interpretation and subtle metaphors to express her frequently loud and aggressive thoughts in the form of music, poetry and painting; most of which relates to her unyielding romantic feelings for Cameron.
Art is not representative of final product.